Do You Have A Construction Project We Can Help With?
Specialists In Modern Construction
We provide high-quality workmanship within both traditional and modern design. High standards are achieved through our well trained and highly experienced team.
SG Rayner Homes are designed to adhere to high building standards. These standards relate to every aspect of the construction of our homes, including structure, ventilation, sound insulation, electrical and fire safety so you can enjoy living in a safe and secure environment.
Each home we build is constructed with a high level of care by our highly qualified dedicated team. From our skilled craftsmen onsite to the trades behind the scene we all work together to deliver the highest standards of design, construction and service.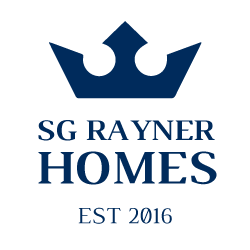 What makes S G Rayner Homes different to other larger developers?
All of SG Rayner homes are created using only the very best materials, "No two houses are the same and we only source and use the best materials for our clients" says Taryn Rayner. "Depending on our clients' requirements, timescales and planning permissions we can deliver pretty much on anything! As an example of our quality promise all of our kitchens are hand built using the some only the highest grade materials.
We will happily customise our plans to meet your specifications, colours, materials depending on where the purchaser comes in during the build cycle. Please talk with the relevant Site Office Manager.
Latest News
Stay up to date with SG Rayner Homes. In this section, we will keep you in the picture with our latest development news, land acquisitions or promotions we are running. Be sure to check back regularly.
The latest specifications of SG Rayner Homes properties in the Narth, Monmouth have been confirmed. Thorneycroft and Springfield will be available in June 2020. Key features: New Builds 5 bedrooms 3 reception rooms 3 bathrooms [...]
After a small delay SG Rayner Homes latest project, The Thorneycroft development has finally broken ground. We are expecting a build time of around seven months. These are going to be large dwellings with a [...]
Open Evening - Clarence House, Tuesday 10th September 2019 From 18:00 to 20:00 Please join us and view our latest development at: Clarence House Pentwyn Lane Penallt Monmouth NP25 4SF To register your interest please [...]
Trusted Partners
We make it our business to work with some of the 'best in their business' which is why we are proud to link to our 'Trusted Partners' websites to show you what they can do, endorsed and recommended by SG Rayner Homes.
SG Rayner Homes
Building Inspiring Spaces
Why not contact us today and see how we can make your new home dreams a reality.